It's arguable that raging house prices in some areas across the country have helped to widen wealth disparity between the generations. Young people are acutely feeling their inability to get into the housing market. While those older and well established have seen their equity increase beyond even their own belief – to the point where if they were out of the market they couldn't afford to buy the home they live in.
For some parties it may be a feeling of resentment, while for others it may be a feeling of guilt – parents gifting house deposits or going guarantor in overheated markets may reflect this. The big concern is how this divide plays out as parents age.
It's unfortunate, but not uncommon, for children of elderly parents to have a sense of ownership of parental assets while the parents are still feeling very much alive. People who are less robust can be very susceptible to requests for money and children have been known to slowly bleed their parents dry.
While it might be a depressing consideration, in an age of greater wealth disparity the potential for this behaviour to increase has to be considered.
Planning in advance for illness, infirmity or a general incapacity to make decisions regarding finances and property should be something seriously considered before it becomes too late to plan. Having a power of attorney professionally drawn up to protect against this may protect assets, minimise family conflict and ensure an older person's financials are always dealt with according to their wishes in the now.
Serious consideration needs to be given to the party to be appointed the power of attorney. While family members may be an obvious choice, they may not always be the best or wisest option. Someone without a financial interest in a person's assets, while having their best interests at heart would be an ideal candidate. Sometimes it's not apparent to parents that their children may not have their best interests at heart.
And this isn't the only reason to find a way to protect assets because the bad news is, there are others looking to rob you as you age!
Around the world the number of people over 65 being scammed is on the rise. The elderly are increasingly being targeted. In recent years the numbers of those over 65 being scammed has doubled in Australia. This is likely because they have a greater proportion of assets than anyone at their stage of life has in the past –  they're seen as easy targets and they're home to answer the phone!
The scams are happening in many forms, but some of the cruellest come with the loss of a partner. Loneliness and heart ache can open the door to all sorts of nefarious characters with less than honourable intentions.
As the following chart shows, for the first five months of 2016, dating and romance scams have cost Australians nearly $10 million and have pulled ahead of investment scams. This is despite romance and dating not even being in the top 10 of scams being reported. Something that suggests emotional scamming is overwhelmingly the costliest when it occurs.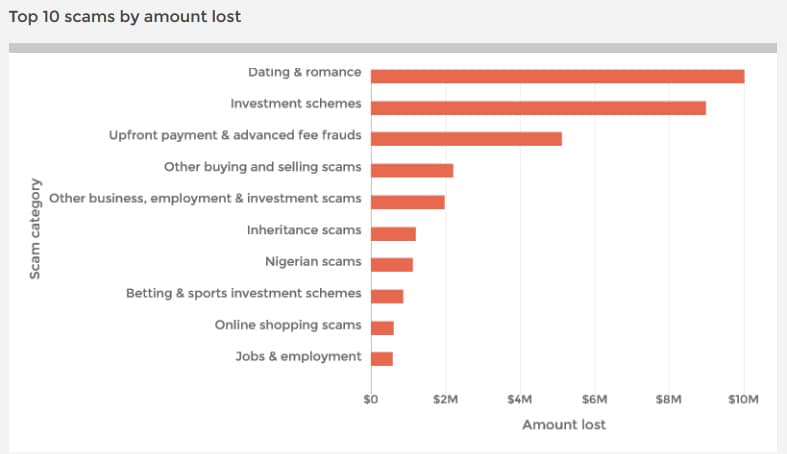 And who are reporting being scammed the most so far this year?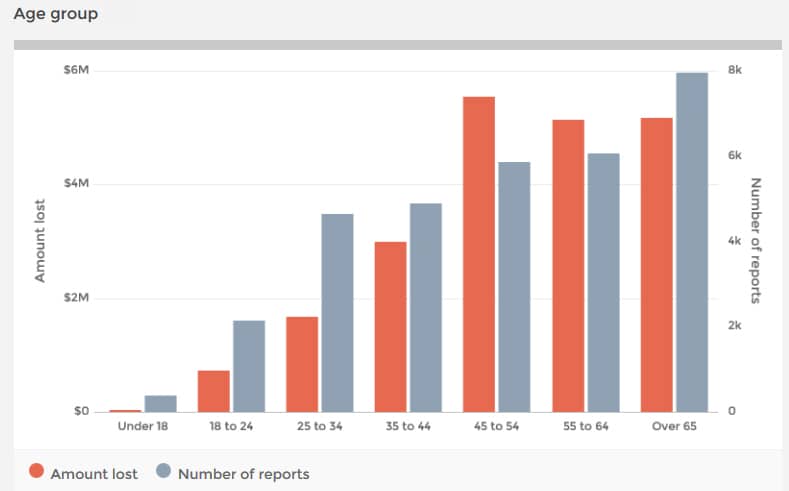 Those 65 and over.
And the financial losses by those over 65 are now pulling level with those in the 45-54 category. Two years ago in 2014 the losses of over 65s were 50% of those 45 to 54. While in 2015 the losses by those over 65 had increased to 75% of those 45-54. With the age groups almost level in 2016 for losses, a trend appears to be emerging with those over 65 and it's not a good one.
The ability for an elderly person to recover financially and emotionally from being ripped off is significantly less than a younger person. It's not something anyone would want to face, so being aware and looking at steps to protect oneself is essential.
Unfortunately, the elderly can expect to increasingly be confronted by these threats. As bleak as this reality may be, becoming a victim to this at a later stage of life would even more bleak.
This represents general information only. Before making any financial or investment decisions, we recommend you consult a financial planner to take into account your personal investment objectives, financial situation and individual needs.