You may have heard of a company called Bellamy's Organic. It was the darling of the ASX last year as the Chinese took a liking to its organic baby formula. Tins of the Tasmanian company's formula were flying off the shelves in Australia as it was sold into China in what was termed a "white gold" rush.
The panic buying wasn't only confined to Bellamy's formula. Bellamy's shares rocketed upward with a 724% return for 2015.
Though China can be a fickle beast. Bellamy's formula was in demand by buyers known as daigou who reside overseas, but buy goods and ship them back into China, sometimes at a hefty mark up. During 2016 the daigou turned their nose up at Bellamy's. Bellamy's were also hit by a Chinese regulatory change which has led to many brands liquidating formula inventories at a discount.
Future share price expectations were dealt a blow.
If you're smart and don't buy individual shares this is merely an interesting story, but if you couldn't help but jump on the Bellamy's "white gold" rush you might be licking your wounds right now. Last Friday Bellamy's shares started the trading day at $12.09, they closed at $6.89 after a profit warning that came out of the blue.
It's currently down 60% from its 2015 intra-day peak.
Did anyone see it coming? A small number of analysts had some concerns, but as was noted in the Australian Financial Review (always after the fact) broking analysts can be very slippery with their recommendations. There aren't a lot of analysts prepared to be individualists in public.
Analysts at the majority of broking houses that cover the stock were tipping Bellamy's shares would rise by between 30 per cent and 65 per cent over the next 12 months.
Here's the important part:
It is often difficult for analysts to stick their head up above the parapet and take a contrarian position. It is particularly difficult for analysts employed by firms which either advise the company or have raised capital for the company.
The reason for this is there's comfort in being wrong in numbers and no comfort in being wrong alone. If you're wrong within a group, you'll inevitably be a smaller target.
This isn't to say Bellamy's isn't a good business or won't be a good business from here, but this is what happens when hot air and speculation grab hold of a share price. Eventually reality turns hot air cold and the share price plummets.
Bellamy's was definitely a case of speculation causing a massive run up in price. Bellamy's price to earnings ratio was over 100 at the end of 2015. To put that in perspective, the long run average price to earnings ratio on the ASX is 15! So compared to the wider market they were overvalued by 6.6 times.
Now wouldn't it have been great to pick Bellamy's at the bottom? You'd still be in front despite the crash! Unfortunately, by the time most investors become aware of a speculative frenzy in a share price, most of those early gains are long gone.
To make that point here's a chart of media mentions of Bellamy's over 2015/16. As you can see Bellamy's media mentions steadily increased from almost none in January 2015 to nearly 150 in November 2015, it's no coincidence a month later it hit an all-time high.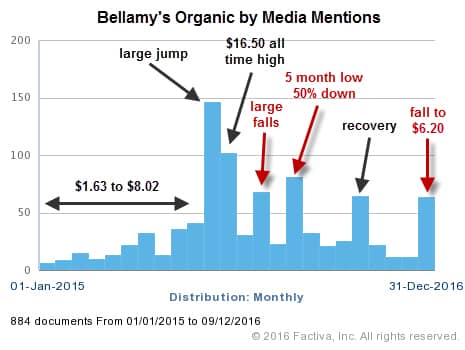 To further highlight the interest in Bellamy's coinciding with media mentions, here's the 2015 price chart with the volume of shares traded underneath. Note the increase in the volume of shares traded in the second half of the year along with the escalating share price.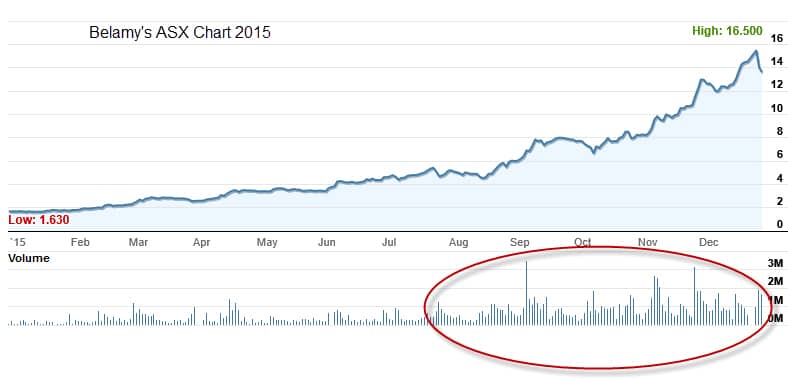 The volumes traded in the second half of 2015 were much more significant and consistent than in the first half. This suggests a significant amount of "investors" bought in when the share price was much higher than it is today.
So yes, it would have been great to pick Bellamy's at the bottom, but as usual the majority of "investors" were late to the party and will now be sitting on large losses or have sold for a loss.
The company names continue to change, but investor behaviour always remains the same.
This represents general information only. Before making any financial or investment decisions, we recommend you consult a financial planner to take into account your personal investment objectives, financial situation and individual needs.